Whats up everyone! 
First off, I want to thank EVERYONE who has been helping us spread the word about our most recent releases! This includes not only all the fans/supporters locally, but all the internet radio and collage radio stations who have been spinning our tunes on the air! Our download numbers are up and we have been getting great feedback from you all! The support really does keep us moving forward on future releases!
We are excited to announce that our single 'Lockdown' has been hand picked by a staff member at RadioAirplay.com as a featured song of the week! 'Lockdown' will be featured on their main blog and social media pages, as well as on the 'Ear Poppin' New Music' station on Jango internet radio! A big thanks to all our new followers on Jango who have helped this become possible!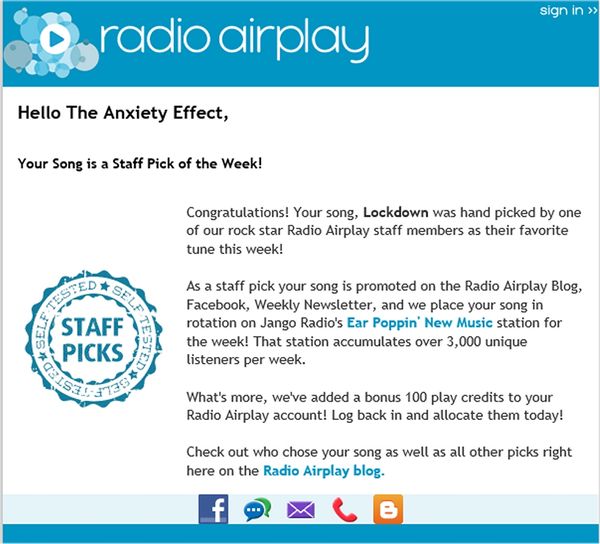 We would like to apologize for the lack of updates. We have been hitting up my studio as often as we possibly can to work on some new material, but some of those days are few and far between! Life gets in the way sometimes.... it sucks, shit happens, but what ya gonna do? 
The good news is, we are moving along with a new single! All drums and one set of guitars have been finished. Unlike our last two singles 'Lockdown' and 'The Fall' (where our boy Jon Mongillo did ALL of the guitar work), we are working with a second guitar player on this new track! We will fill you in on who this is in the near future! 
So yes, we are still planning on releasing new material! Just please be patient with us, as being a studio based band with tight schedules can cause some setbacks! The new single titled "Voice Of Reason" is well underway, and although there is no set release date yet, we hope to have it completed by the fall/winter of 2018. Be on the look out for media updates soon! Thanks again! 
John